Minnesota Steam Engine Association – Preserving Minnesota's Steam Heritage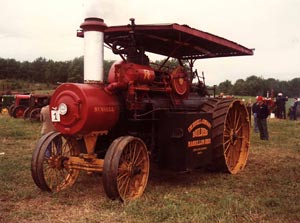 The Minnesota Steam Engine Association is a non-profit organization dating back to 1978. Since then we have been successful in generating interest, promoting education, and passing rules and regulations regarding the steam engine hobby, which includes stationary steam engines.
Our Emblem/Logo
The emblem selected by the Minnesota Steam Engine Association holds great sentiment to many Minnesota steam enthusiast. The engine featured is a representation of the Minnesota Giant, an engine built by the Northwest Thresher Company of Stillwater, Minnesota. This was one of the first manufactures of steam engines (often referred to as traction engines or steam tractors) in Minnesota and one of its productions carries the name of our great state.
Become a Member
As with any organization, the more memberships we receive the more effective we can be in promoting and preserving the steam engine hobby and Steam shows. If you are in any way interested in steam power or would just like to help ensure that the shows continue; you are cordially invited to become a member.
Membership is simple, inexpensive and connects you to over 300 steam engine enthusiast. Once you have become a member you can purchase a handsome patch and cloisonné pin of our official emblem, featuring a Minnesota Giant Steam Engine, for only $3.50. Members may also purchase a beautiful 12″ by 18″ flag with our emblem screen-printed on it, available for $15.00 each, plus .75¢ postage.
Membership Dues: $20.00 per year; includes:
Membership Card
Meeting Participation
Published Newsletter after each meeting containing:

Meeting Minutes
Financial Report
Meeting Notices
Tour Notices
Want Ads
Association Activities
Interesting News
Downloadable/Printable Application Form – (pdf format)
Meetings
Association meetings are held the first Saturday of the month, usually beginning in November. They are often held in Rice MN, a central location, but are occasionally held in other areas. Some of the meetings are held in conjunction with a tour of various companies, industries or other places of interest to the members. The last meeting of the season is held with a steam-up in May or June.